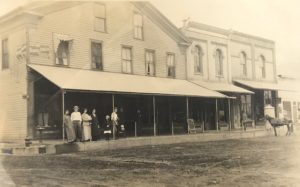 Built in 1856 by Sewall Smith, this building was originally called Smith Dry Goods Company. It was later taken over by the Orrin Marshall and Otto Zinn. Mr. Zinn left; then Orrin and his sons, Orrin, Jr. and Seymour, ran the general store. After Orrin Senior's death, Orrin, Jr. left and went east. Seymour and his son, Harold, continued to operate the store. After Seymour's death Harold and his wife, Dorothy, had the store.
The building housed the first elevator in town. The elevator pulleys are in the attic where notes made on the wall in the 1800's can still be seen, thanks to the Jensen family who bought it from the estate of Harold Marshall. In the upstairs rooms, Lucille Hargraves gave piano lessons and many of the shoppers in the general store recall hearing the tapping of Lucille's foot as she coached her pupils. An article from the East Troy News, May 27, 1936, says "A piano recital was given by Miss Lucille Hargraves' students at the M.E. Church Friday evening to a good crowd. Those on the program were following: Misses Patsy & Jean Marie Clancy, Ella Mae Dawe, Carol Buckau, Georgia Gruno, Shirley Babcock, Dolores Smith, Elizabeth Gaskill, Lucille Link, Dorothy Troeger, Jeanette Rhode, Mildred Sweetnam, June Newman, Helen Smith, Frances Harmon, Geraldine Tess, Alice Smith, Nadene Brown, and Masters Donald Reedy, Bernard Rieck, Lloyd and Boyd Henry."
Upstairs were the successive offices of dentists Dr. Mills, Dr. Boyle, and Dr. Baker. Mrs. Mary Baer ran a millinery shop upstairs and it was later taken over by Mrs. Cathleen Ottow. Mrs. Ottow had the shop for 50 years; from 1908 until her death in 1958. There was a meeting room for the Mason's Society, with a small secret door in the main door, so members could be identified before being admitted. There was an apartment on the second floor and a storage area. The first floor of this building housed Marshall's General Store and Sideview Auto Parts. Kate's Needful Things opened up the lower retail area and the apartment area on the second floor for retail space. After Kate's business left, the building was bought by the Roehr family, who did extensive remodels for their coffee shop and retail store, Square Roots and 2894 on Main.