#21: 2883 South Church Street
The building that occupied this empty lot to the East was built pre-1900 and once had three floors. It was first known as the Habernicht Building. The Habernichts had a bakery here, and the family lived upstairs. The West End of the building housed a machine shop. Later, it was known as the F. H. Gilbert building, a funeral home and furniture store. An East Troy News article, July 12, 1911, states that the owners installed "a good sized freight elevator in the furniture store". Fred Gilbert initially used a horse-drawn hearse. Later he purchased an automobile and had Joe Lacy, the blacksmith, remove the body and install a box to carry the deceased to the cemetery. Around 1922-23 there were living quarters in the basement for the men employed building Highway 15 (now known as "ES"). They were 25 men, all Italians, who spoke no English. They hung cheese-balls in all of the living areas. When the building was sold it became the Walworth County Consumer's Co-op. Alice Price had a beauty shop on the second floor. Wilber Moulton also had a restaurant here.
Giles' Restaurant, was opened in this location in 1956. When Agnes Rice and Mary Edwards bought the restaurant from Jack Giles in 1961, they retained the name "Giles' Restaurant". The third floor had been condemned, so Jack Giles removed the upper story, and refashioned the roof and exterior of the building. He even began to cover the building with a course of limestone bricks, but being a shrewd man, left the building "unfinished" to keep the tax on it down. Pat Ebert further modified the building when she purchased the business in 1976. In addition to the original lunch counter, Pat Ebert also operated a "Sweets Shoppe" next door from 1981-83. At this time she bought the building, and expanded the restaurant to overtake the sweets shoppe, bringing the restaurant to completion in 1987. The remaining space on the ground floor (2877 South Church Street) was used by "The Hair Shop", a photography studio, and Main Street Realty owned by Coldwell Bankers, Beardsley & Associates. There was most recently an antique seller in the first floor space where the restaurant was. The second floor had been converted to apartments.
The building burned in 2016.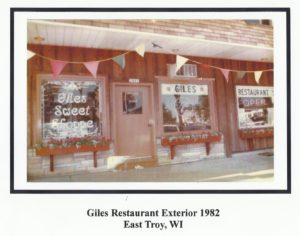 ---
#22: 2885 East Main Street
This structure was first known as the Louis Shock residence, where Mr. Shock operated a barbershop for many years. Then it became Erine Justin's private home. Later, a photography shop was housed here, and now it is once again a barbershop. The front of the current barbershop was added in 1984. This building was damaged in the fire of the building to the East, but was saved and repaired.